Non-Surgical Rhinoplasty- The Nose Thread Lift
Posted by Dr Hugo Ho on 7 July 2021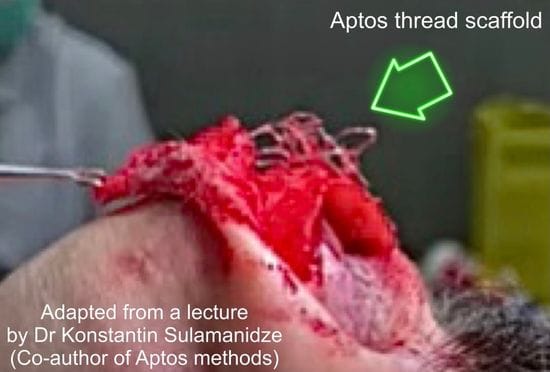 Patients can now opt for a simple nose job with an office-based procedure performed under local anaesthesia in under half an hour with minimal downtime.
Non-surgical nose thread lift uses absorbable threads made of materials that are 100% bio-compatible with the human body. After applying a local anesthetic, the doctor places threads horizontally into the nose bridge and vertically into the nose tip to form an internal scaffold splint that helps contour and shape the nose to the desired state that is immediately visible. Dr Ho uses Aptos Excellence absorbable threads with unique multidirectional barbs. These threads can provide stronger tissue fixation and create a more stable scaffold of support in the nose.
This scaffold, in time, will be reinforced by the body's collagen, which takes about eight weeks to achieve adequate strength.
Why Nose Thread lift?
Nose thread lift has no risks of causing blindness & skin necrosis compared to nose fillers.
Nose thread lift doesn't migrate like nasal filler and can produce a result just like that of nasal implants ( when many threads are stacked together until its as thick as an implant)
Nose threads can stimulate the tissue of the nose to produce its collagen so that they be a result of the nose job will continue to improve and be sustained.
Nose thread lift such as Aptos can last up to 2 years.
Aptos thread rhinoplasty is a non-surgical treatment. Like all other non-surgical nose treatments, Aptos threads can not reduce the size of the nose. Still, it can make the nose appear smaller or narrower.
What Can Improve with Nose Thread Lift?
Hiding a nasal hump
Correction of a flat nasal bridge.
Adding projection to the nasal tip.
Lift the tip of your nose.
Filling nasal wall depressions.
Reduce nasal valve collapse that causes nasal obstruction
Wide nostrils
Correction of a crooked nose from past injury or surgery
Noses Suitable For Thread Lift
Small to moderate size
Thin skin
Mild to moderate deformity
Elastic cartilages
Previous surgery
Noses Not Suitable For Thread Lift
Large noses
Prominent bony structure
Severe deviation
Stiff or rigid nasal tip
Thick skin
Possible Complication of Nose Thread Lift
Discomfort and pain
Bruising & swelling
Dimpling & irregularities
Visible threads (in people with thin skin)
Infection
Protrusion & extrusion of threads
The result does not meet the patient expectation.
The number of threads required varies according to individuals. An initial consult with the doctor is necessary to determine the current shape of the nose and the desired outcome before he can decide the number of threads required.
The reversibility of the result is also appealing to patients who are uncertain about going under the knife.
Dr Ho has many years of experience in thread lifting and is a certified Aptos trainer. Contact Dr Hugo Ho Thread Lifting for a free consultation to determine how the Nose Thread Lift procedure can help you.

Author:
Dr Hugo Ho
About: Dr Ho is Specialist General Practitioner and a Cosmetic Physician. He is a Fellow of the Royal Australian College of General Practitioner. He has been practicing as a General Practitioner for over 25 years. In 2009, he furthered his studies in Aesthetic Medicine and was awarded the Diploma in Aesthetic Medicine by the American Academy of Aesthetic Medicine. In 2015, he was admitted to the Cosmetic Physicians' College of Australasia as an Inaugural Full Member.
Connect via:
LinkedIn