Thread Lift Sydney
Posted by Dr Hugo Ho on 23 June 2021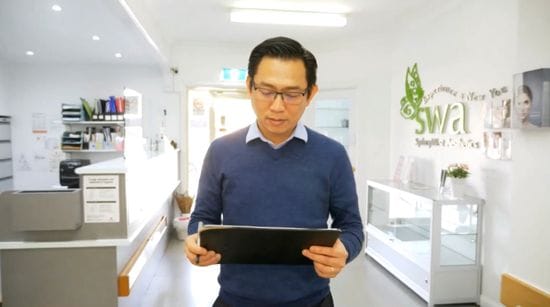 If you feel like time is not on your side and gravity is taking a toll, a thread lift could be an appropriate treatment.
The most significant factor affecting the condition of our skin is the natural aging process. Aging causes a reduction of natural protein production in our skin called elastin and collagen. These proteins support our skin tissue to attain a plump, soft and youthful skin. When we are young, our skin naturally produces these substances. However, as we age, a rapid decrease in the production process unfolds. As a result, some people lose more collagen and elastin than others. The lack of collagen and elastin makes our skin lose elasticity and volume, which leads to wrinkles and sagginess.
In addition, environmental factors also negatively affect skin tissue. For example, excessive exposure to the sun is one of the leading causes for sagging skin, as the sun's ray's break down collagen and elastin. Other culprits include smoking, a bad diet and poor lifestyle choices such as excessive alcohol consumption, smoking and a sedentary lifestyle.
Saggy skin can happen almost anywhere on the body. Common areas where you might see saggy skin include:
eyelids
cheeks
jowls
chin
upper arms
stomach
Saggy skin is not a medical condition and isn't a problem for everyone. But for some, it can be frustrating or affect self-esteem.
At-home treatments for saggy skin with lifestyle changes, skincare products, improvement in diet, hydration and exercise can produce small-to-moderate results. In addition, several scientific studies have found oral supplements containing collagen and hyaluronic acid can also help reduce age-related sagging skin. However, surgery is the gold standard treatment for saggy skin.
For patients who want to avoid or delay surgery, an Aptos thread lift is a way to lift sagging tissue and tighten loose skin without an invasive surgical procedure. The result is effective but often temporary for one and a half to two years. However, everyone is different and has different skin properties that Dr Ho considers when developing the most appropriate treatment.
Aptos thread lifting method has won several awards in Europe including, the "Best Tightening Thread" and the "Best Clinical Face in Facial Defect Reconstruction".
In an Aptos thread lift procedure, Dr Ho repositions and contours the sagging tissues, then place threads carefully in pre-determined areas to support the tissue and maintain the lift. You immediately see a visible lifting effect followed by smooth and younger-looking skin over the next few weeks, achieved in under an hour, with local anaesthesia, requiring little downtime and without scarring.
Dr Ho has many years of experience in thread lifting and is a certified Aptos trainer if your saggy skin bothers you. Contact Dr Hugo Ho Thread Lifting for a consultation about your Thread Lift procedure.

Author:
Dr Hugo Ho
About: Dr Ho is Specialist General Practitioner and a Cosmetic Physician. He is a Fellow of the Royal Australian College of General Practitioner. He has been practicing as a General Practitioner for over 25 years. In 2009, he furthered his studies in Aesthetic Medicine and was awarded the Diploma in Aesthetic Medicine by the American Academy of Aesthetic Medicine. In 2015, he was admitted to the Cosmetic Physicians' College of Australasia as an Inaugural Full Member.
Connect via:
LinkedIn