Aptos Thread Lifting: An Innovative Solution for Anti-Aging Benefits
Posted by Dr Hugo Ho on 19 August 2023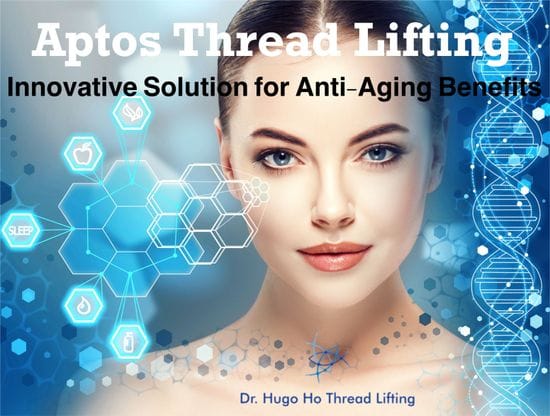 In the pursuit of youthful skin, advanced technologies and techniques have revolutionised the field of aesthetics. While numerous anti-aging treatments are available today, one method that has gained popularity for its effectiveness and natural-looking results is Aptos thread lifting. This non-surgical procedure utilises bioactive threads to effectively combat the visible signs of aging.
Understanding the Composition:
Aptos threads are composed of a unique combination of materials meticulously designed to stimulate collagen and elastin production, the proteins responsible for maintaining the skin's structure and elasticity. These threads comprise 75% Polylactic acid (PLA) and 25% Polycaprolactone (PCL).
Bioactive Benefits:
Lab studies have demonstrated the bioactive properties of the materials used in Aptos threads. PLA and PCL have the ability to attract fibroblast cells, which are responsible for the production of collagen and elastin. This biocompatibility of Aptos threads promotes neocollagenesis, strengthening the skin's framework and resulting in a noticeable lifting effect.
The Aptos Thread Lifting Procedure:
Aptos thread lifting is a non-surgical procedure that offers instant and long-lasting results with minimal downtime. The procedure involves the insertion of Aptos threads into the subcutaneous tissue, using a specialised technique to strategically lift and contour the face or specific areas of concern.
Once the Aptos threads are inserted, they act as a scaffolding system, providing support to the underlying tissues and repositioning sagging skin. Over time, the bioactive properties of the threads stimulate fibroblast activity, producing new collagen and elastin, restoring skin elasticity and firmness and improving skin texture.
Long-lasting Results:
One of the significant advantages of Aptos thread lifting is its durability. As the body absorbs the threads, the bioactive properties continue to stimulate collagen production. This gradual collagen synthesis extends the results of the procedure, providing a rejuvenated appearance that can last up to 2 years.
Benefits of Aptos Thread Lifting:
Natural-looking results: Unlike conventional surgical facelifts, Aptos threads offer a non-invasive approach that avoids cutting or detachment of facial tissues. These threads are delicately inserted to lift and reposition facial tissues while working within the natural anatomy's framework. The result is a rejuvenated, subtle, harmonious appearance with the individual's features without an exaggerated or unnatural look.
Minimally invasive: As a non-surgical procedure, Aptos thread lifting requires only minor incisions using small needles, reducing the risk of scarring and infection.
Quick recovery: Compared to traditional facelift surgeries, the recovery time for Aptos thread lifting is relatively short, allowing individuals to return to daily activities with minimal downtime.
Versatility: Aptos thread lifting can be performed on various areas of the face, including the brow, cheeks, jowls, and neck, providing comprehensive rejuvenation tailored to each individual's needs.
As the quest for youthful-looking skin continues, Aptos thread lifting emerges as a highly effective and non-surgical solution for anti-aging benefits. The bioactive properties of PLA and PCL in these threads promote collagen synthesis and tissue regeneration, resulting in natural-looking, long-lasting results. With minimal downtime and proven effectiveness, Aptos thread lifting has positioned itself as a frontrunner in the field of anti-aging aesthetics. If you are looking for a non-surgical approach to combat the signs of aging and regain your youthful glow, Aptos thread lifting may be the perfect solution for you. Consult with a qualified Aptos thread-lifting doctor to assess your suitability for this procedure and embark on your journey towards a more youthful appearance.

Author:
Dr Hugo Ho
About: Dr Ho is Specialist General Practitioner and a Cosmetic Physician. He is a Fellow of the Royal Australian College of General Practitioner. He has been practicing as a General Practitioner for over 25 years. In 2009, he furthered his studies in Aesthetic Medicine and was awarded the Diploma in Aesthetic Medicine by the American Academy of Aesthetic Medicine. In 2015, he was admitted to the Cosmetic Physicians' College of Australasia as an Inaugural Full Member.
Connect via:
LinkedIn