Discover the Benefits of Thread Lifting: Embrace a Low-risk, Subtle, and Natural Transformation!
Posted by Dr Hugo Ho on 3 April 2023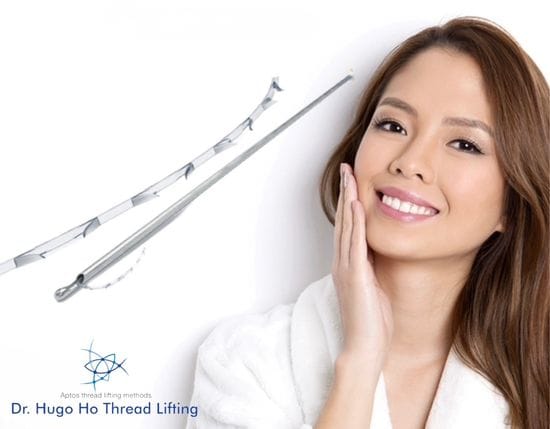 As we age, our skin begins to lose elasticity and firmness, leading to signs of wrinkling and sagging. While surgical facelifts have long been the go-to treatment for these signs of aging, they require significant downtime and carry substantial risks. Fortunately, advances in cosmetic medicine have enabled thread lifting: a minimally invasive procedure that can lift and tighten sagging skin without surgery.
Thread lifting, a.k.a. a non-surgical facelift, is a minimally invasive cosmetic procedure that utilises dissolvable threads to lift and tighten skin on the face and neck. These threads are made of biodegradable materials like polylactic acid (PLA), Polycaprolactone (PCL) or Polydioxanone (PDO), which are inserted into the skin using small needles for a scaffolding effect that gives off a more youthful, revitalised appearance. Thread lifting has gained popularity among those seeking a practical and secure way to rejuvenate their look. In this article, we'll look into the advantages of thread lifting and why it may be the right choice for you.
Thread Lifting Is Low-risk and Minimally Invasive
One of the primary advantages of thread lifting is its safety and minimally invasive nature. Unlike traditional facelifts, thread lifting does not require general anesthesia or large incisions, reducing risk factors and downtime. The use of small needles to insert threads into the skin without extensive cutting or stitching means patients typically experience minimal pain or swelling after their procedure and can resume normal activities within a few days.
Subtle and Natural-Looking Results
Thread lifting is a minimally invasive procedure that can be done in the clinic or office with little downtime. While surgical facelifts can create dramatic transformations, they may also lead to an unnatural "pulled" or "tight" appearance that looks overdone or unnatural.
Minimal Downtime
Thread lifting offers the distinct advantage of having minimal downtime. Unlike traditional facelifts, which may require weeks to recover from, thread lifting patients typically return to work within a few days. While some swelling and bruising may occur following thread lifting, most experience resolution within these first few days.
Customisable
Thread lifting is a highly personalised procedure tailored to each patient's needs. Depending on the patient's goals and the treated area, threads can be inserted in various patterns to achieve desired lift and contour.
Cost-Effective
Thread lifting can be an economical alternative to traditional facelifts. While the price may vary based on the number of threads used and the complexity of the procedure, it tends to be less costly than its traditional counterpart.
Although thread lifting can effectively treat facial and neck sagging skin, it has some limitations. For instance, patients with severe sagging or significant loss of skin elasticity may not be suitable candidates for thread lifting; additionally, results are temporary and typically last 12-18 months. Therefore, those wishing to maintain their thread lifting results should seek additional treatments as necessary.
Thread lifting can be a delicate procedure. Therefore, you must find an experienced and qualified practitioner to assess whether thread lifting suits you and guide you through the process for optimal outcomes.
In conclusion, Thread lifting is an effective, minimally invasive procedure for lifting and tightening sagging skin on the face and neck. Its subtle results, minimal downtime, and ease of access make it a convenient and low-risk alternative for patients looking to enhance their aesthetic without surgery. While thread lifting may not be suitable for everyone, its advantages in terms of safety, recovery time, and natural-looking outcomes make it worth considering if thread lifting is right for you.

Author:
Dr Hugo Ho
About: Dr Ho is Specialist General Practitioner and a Cosmetic Physician. He is a Fellow of the Royal Australian College of General Practitioner. He has been practicing as a General Practitioner for over 25 years. In 2009, he furthered his studies in Aesthetic Medicine and was awarded the Diploma in Aesthetic Medicine by the American Academy of Aesthetic Medicine. In 2015, he was admitted to the Cosmetic Physicians' College of Australasia as an Inaugural Full Member.
Connect via:
LinkedIn